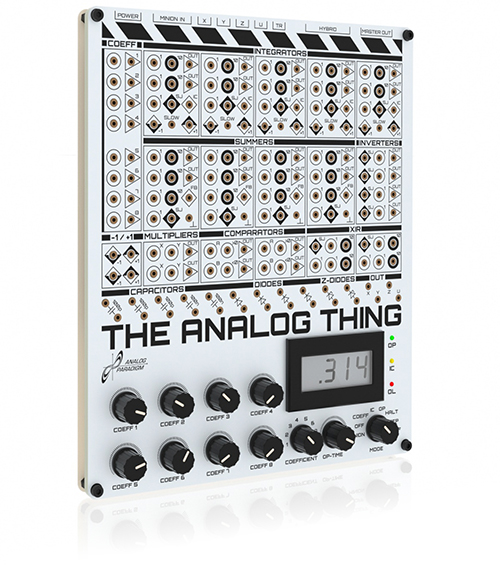 Analog Computing for the Future
portable - affordable - open source - eye-opening
Buy your own
First Steps PDF
Read the docs
THE ANALOG THING (THAT)
THE ANALOG THING (THAT) is a high-quality, low-cost, open-source, and not-for-profit cutting-edge analog computer.
THAT allows modeling dynamic systems with great speed, parallelism, and energy efficiency. Its use is intuitively interactive, experimental, and visual. It bridges the gap between hands-on practice and mathematical theory, integrating naturally with design and engineering practices such as speculative trial-and-error exploration and the use of scale models.
Dynamic system modeling on THAT can serve a variety of valuable purposes. It may help understand what is (models of), or it may help bring about what should be (models for). It may be used to explain in educational settings, to imitate in gaming, to predict in the natural sciences, to control in engineering, or it may be pursued for the pure joy of it!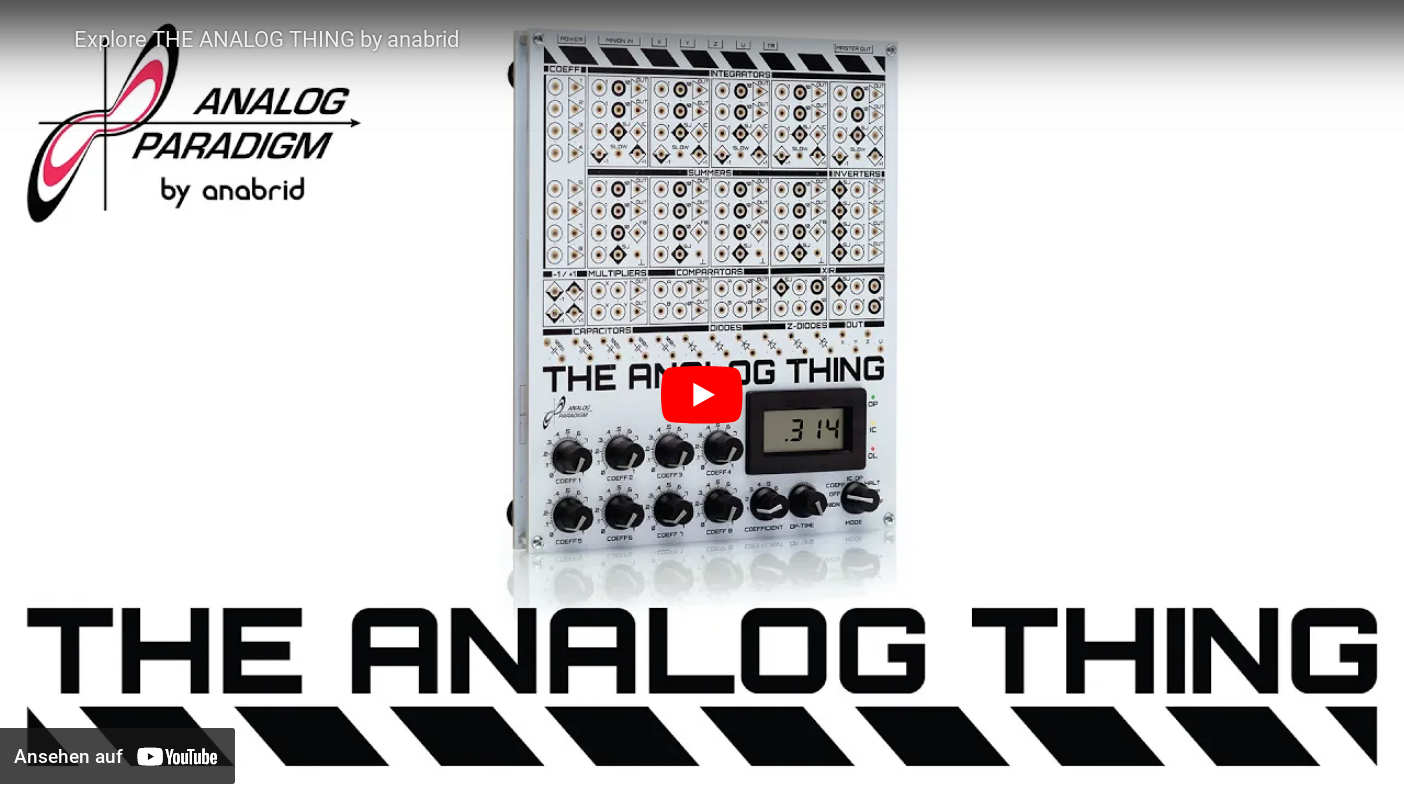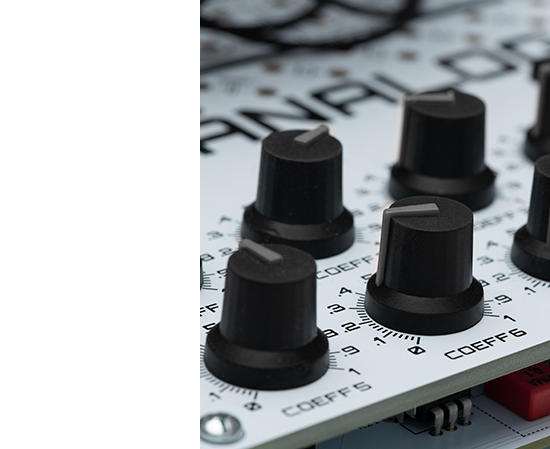 A DIFFERENT PARADIGM
Analog computing is one of three major computational paradigms (analog, digital and quantum). As digital computing approaches the limit of Moore's Law, analog computing offers a strategy to diversify today's digital monoculture. Analog computing is:
ideally suited for dynamic systems modeling
ideally suited for neuromorphic AI applications
significantly more energy-efficient than digital computing
inherently safer than digital computing in the face of cyber threats
FEATURE OVERVIEW
THE ANALOG THING is designed to allow an extensive range of analog computing applications with a small set of calculating elements.
5 INTEGRATORS
Circuits that perform integration over time.
4 SUMMERS
Circuits that add inputs continously.
2 COMPARATORS
Circuits that compare inputs to support conditional functions.
MASTER / MINION PORTS
Interfaces that allow daisy-chaining mutiple THATs to create arbitrarily large programs.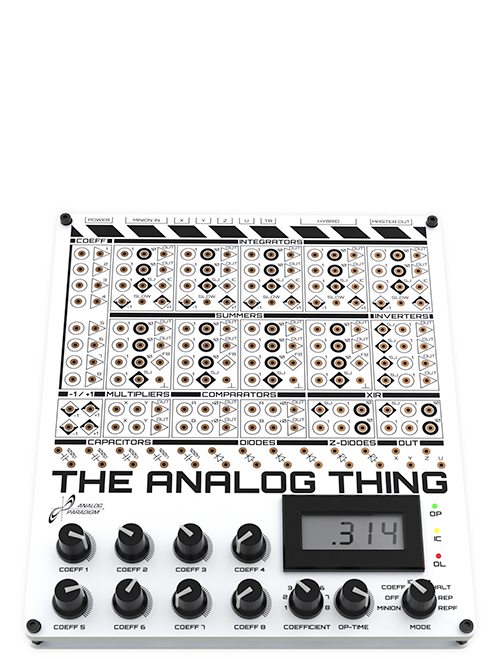 8 COEFFICIENT POTENTIOMETERS
Rotary knobs to provide user-defined inputs.
2 MULTIPLIERS
Circuits that multiply inputs continously.
PANEL METER
A digital panel meter for precision measurements of values and timing.
HYBRID PORT
An interface for controlling THAT digitally to develop analog-digital hybrid programs.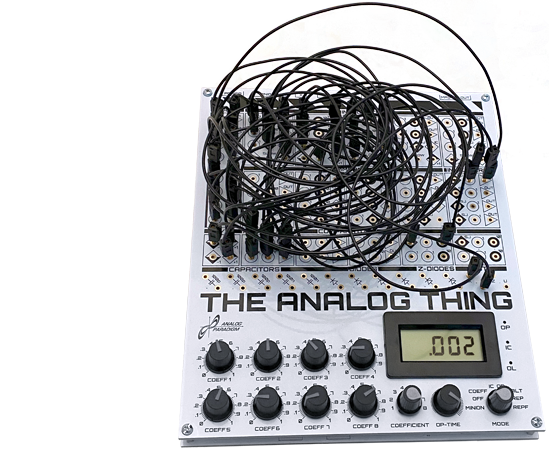 DYNAMIC SYSTEMS MODELING
With THE ANALOG THING, you can model dynamic systems including:
market economies
the spread and control of diseases
population dynamics
chemical reactions
mechanical systems
a variety of mathematical attractors
COLLATERAL LEARNING
As collateral learning benefits, THAT offers introductions to:
CALCULUS
Inseparably linked with rates of change and the accumulation of quantities, analog computing offers a practical approach to differential and integral calculus.
ANALOG CIRCUITS
With computing elements built around operational amplifiers, analog computing enables users to gain a hands-on understanding of analog circuits.
CONTROL ENGINEERING
Applicable in adaptive control systems, analog computing offers a practical introduction to control engineering.
AFFORDABLE PRICING
We are planning to make THE ANALOG THING available at a regular price point and with an educational discount.
Both price points will be offered on a not-for-profit basis.
Regular Unit Price
EUR499
including VAT/tax – plus shipping
For private and professional users.



View in Shop
Educational Unit Price
EUR450
including VAT/tax – plus shipping
For students, teachers and educational institutions.
Proof of student status, educational employment or affiliation with an educational institution required.
View in Shop