Win Soundcard Oscilloscope
From TheAnalogThing
The WIN Soundcard Oscilloscope is a Soundcard-based software oscilloscope for the Microsoft Windows operating system. The freeware can be obtained at https://www.zeitnitz.eu/scms/scope_en?mid=4.01, there are also commercial licenses available.
Features
The software is quite feature complete for a softscope.
Supports two channels in both Y/t and XY display
Loopback inputs are also possible
We also had success running this software on Windows 10 in a VirtualBox on Mac OS X.
Screenshots
And another text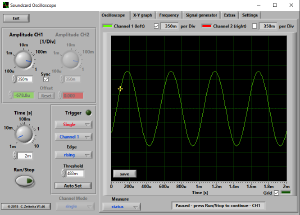 WIN - Soundcard Oscilloscope
A software solution for Windows user is the Soundcard Oscilloscope from Christian Zeitnitz which is free of charge for private use. The software runs under several WIN versions like 7/8/10 and was very stable during tests. A calibration factor of 2.5 in the settings gives an approx. good result of the input signal of 1V amplitude.
The software supports dual channel display including XY mode and has also an inbuild signal generator. Additionally this software has a feature of FFT to show the Fourier spectrum of a signal.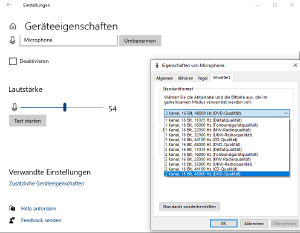 Features of WIN Soundcard Oscilloscope:
Dual Channel with XY mode
Math operations (add, subtract and multiplication)
Frequency analysis
Trigger mode Auto, Normal, Single
Internal signal generator
Audio recorder to record incoming signals to a file
There was a small issue with the audio input device we used. WIN 10 recognized this as a mono device (microphone) only while it supports stereo line in. This issues can be solved in the WIN configuration, selecting your audio input device and set the configuration option to Stereo with 48 kHz Sampling frequency.