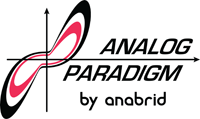 THE ANALOG THING

Newsletter #8 (June 16, 2022)
Welcome to the eighth newsletter on all things THAT (THE ANALOG THING).
Orders
Only a few months after its launch, the number of orders we receive for THE ANALOG THING qualifies this device as an incredible success. While few exact sales numbers are available for earlier table top analog computers from the 1960s and 1970s, it should be safe to state that more THATs have now been sold than even the most prolific models made by Telefunken and EAI. With this popularity, THE ANALOG THING is now one of the most successful and widespread analog computers ever! :-)
Production
Production of Batch 1.5 is progressing – we are currently waiting for the front panels to arrive, which should happen next week. If all goes according to plan, we will start shipping orders from Batch 1.5 early next week.
Due to the currently limited availability of electronic components, Batch 2 will be delayed at least to August. Even simple things such as ESD suppressor diodes are now hard to get, not to mention the quality of operational amplifiers needed for THAT. We refuse to use inferior substitute components and compromise product quality for the sake of meeting deadlines, and wholeheartedly thank all future THAT owners for their patience and understanding!
New version of the the booklet
A new version of the booklet accompanying each THAT in hard copy is now available. The moon lander circuit had an error in the wiring diagram which has been corrected.
THE ANALOG THING at the GPN Karlsruhe
THE ANALOG THING was shown at the GPN (Gulaschprogrammiernacht) in Karlsruhe in May 2022. The device attracted a lot of interest and numerous people tried their hands at analog computing for the first time.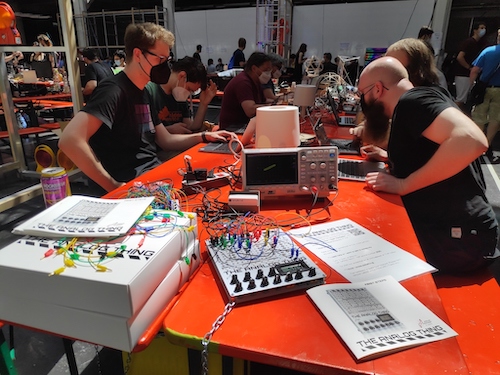 Analog Consultation Hour
The first two Analog Consultation Hours took place on the 22nd of May 2022 and on the 05th of June 2022. We had about ten guests join each session and interesting discussions. The emerging analog computing community is already working on a really nice digital oscilloscope based on a Teensy Arduino with a color display and X/Y-display capability as well as an improved multi-channel data logger. Both projects are ideally suited for THE ANALOG THING.
The next Analog Consultation Hour will take place on Sunday, the 19th of June 2022 at 6 PM, Berlin time.
Facebook THAT group
A lot has been going on in the THAT facebook group recently.
Michael Koch's computation of a chirp (similiar to a gravitational wave) on two THATs (Sankt Andreasberg Observatory)

Michael Koch's lunar lander simulation with analog meters for fuel quantity, velocity, and altitude (Sankt Andreasberg Observatory)

Rob Jansen's XY display for THAT

Many interesting discussions...
Recently, a four quadrant division circuit and a polynomial generator were also posted to the Facebook group.
Recent newsletters
Contact
As always, please do not hesitate to contact us at that@anabrid.com if you have questions regarding THE ANALOG THING.
You can share this newsletter issue with the link https://the-analog-thing.org/newsletter/8/.